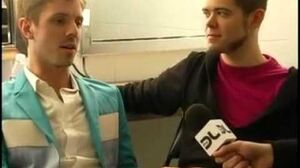 Artist
Song
Other games
My Chemical Romance
Astro Zombies
Fall Out Boy
Start Today
Taking Back Sunday
Suburban Home / I Like Food
Thrice
Seeing Red / Screaming at a Wall
Alkaline Trio
Wash Away (Beneath the Shadows)
Rise Against
Fix Me
Thursday
Ever Fallen In Love
Dropkick Murphys
Who is Who
Saves the Day
Sonic Reducer
original by Dead Boys in Tony Hawk's Underground 2, Call of Duty: Infinite Warfare; sampled in An Open Letter to NYC in NBA Street V3
Senses Fail
Institutionalized (cover)
original by Suicidal Tendencies in Mat Hoffman's Pro BMX 2
From Autumn To Ashes
Let's Have A War
Emanuel
Search & Destroy (cover)
original by Iggy & The Stooges in Tony Hawk's Shred, True Crime: New York City, TOCA Race Driver
The Bled
House of Suffering
Hot Snakes
Time to Escape
Green Day
Holiday
Bloc Party
Like Eating Glass (Tony Hawk Mix)
Thrice
Image of the Invisible
Rock Band (DLC)
The Bravery
Unconditional
Dead Kennedys
California Über Alles
The Doors
Peace Frog
Motley Crüe
Live Wire
Brütal Legend
Public Enemy ft. Ice Cube and Big Daddy Kane
Burn Hollywood Burn
Black Flag
Rise Above
Grind Session
The Faint
I Disappear
SSX On Tour
Oingo Boingo
Who Do You Want To Be
Frank Black
Los Angeles
Rob Sonic
Sniper Picnic
Sham 69
Borstal Breakout
Death From Above 1979
Little Girl
Major League Baseball 2K7
Venom
Black Metal
Spirit Caravan
Dove-Tongued Agressor
Scissor Sisters
Filthy/Gorgeous
The God Awfuls
Watch It Fall
Molemen ft. Slug and MF Doom
Put Your Quarter Up
High on Fire
Devilution
Mastodon
Iron Tusk
NHL 2K9
Pig Destroyer
Gravedancer
Tommy Guerrero
Organism
Strike Anywhere
Question the Answer
Prefuse 73
The End Of Bitters

Incorrectly listed as One Word Extinguisher

Pest
Duke Kerb Crawler
D. R. I.
Couch Slouch
Breakestra
Champ
B-Boy
EI-P
Jukie Skate Rock
SNFU
Better Homes And Gardens
7 Seconds
We're Gonna Fight
Crackdown 2 (remixes)
Felix da Housecat
Everyone Is Someone In LA
The Riverboat Gamblers
Hey! Hey! Hey!
Ungh
Skate Afrikkana
Circle Jerks
Wild In The Streets
Bobot Adrenaline
Penalty Box
Lair of the Minotaur
Warlord
An Endless Sporadic
Sun of Pearl
Del Tha Funkee Homosapien
Burnt
Fatlip
What's Up Fatlip
Bad Religion
We're Only Gonna Die
Good Riddance
30 Day Wonder
The Network
Teenagers From Mars
The Casualties
Get off my Back
The Thunderlords
I Like Dirt
USSR
Live Near Death
Mike Vallely
Vendetta
Nassim
Rawhide
Ad blocker interference detected!
Wikia is a free-to-use site that makes money from advertising. We have a modified experience for viewers using ad blockers

Wikia is not accessible if you've made further modifications. Remove the custom ad blocker rule(s) and the page will load as expected.