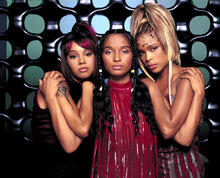 TLC is an American girl group whose original line-up consisted of Tionne "T-Boz" Watkins, Lisa "Left Eye" Lopes and Rozonda "Chilli" Thomas. Formed in Atlanta, Georgia in 1991, the group was very successful during the 1990s and early 2000s. They scored nine top-ten hits on the Billboard Hot 100, including four number-one singles "Creep", "Waterfalls", "No Scrubs", and "Unpretty".
Ad blocker interference detected!
Wikia is a free-to-use site that makes money from advertising. We have a modified experience for viewers using ad blockers

Wikia is not accessible if you've made further modifications. Remove the custom ad blocker rule(s) and the page will load as expected.