Run–D.M.C. was an American hip hop group from Hollis, Queens, New York, founded in 1981 by Joseph Simmons, Darryl McDaniels, and Jason Mizell. The group is widely acknowledged as one of the most influential acts in the history of hip hop culture. Run-D.M.C. is one of the most famous hip-hop acts of the 1980s who, along with LL Cool J, The Beastie Boys, and Public Enemy, signified the advent of the new school of hip-hop music.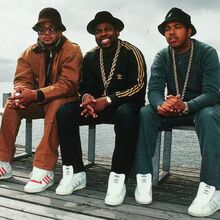 Ad blocker interference detected!
Wikia is a free-to-use site that makes money from advertising. We have a modified experience for viewers using ad blockers

Wikia is not accessible if you've made further modifications. Remove the custom ad blocker rule(s) and the page will load as expected.