Melissa Arnette "Missy" Elliott, often known professionally as Missy "Misdemeanor" Elliott, is an American rapper, dancer, and record producer. Elliott established an international career that yielded hits including "Get Ur Freak On", "One Minute Man", "4 My People", "Gossip Folks", and "Work It". The latter won her a Grammy Award for Best Female Rap Solo Performance; Elliott went on to win four Grammy Awards and sell over 30 million records in the United States. Elliott is not only a trailblazer, but a record-holder, reigning as the best-selling female rap album artist in Nielsen Music history.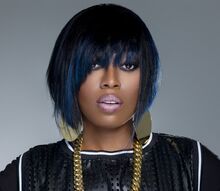 Ad blocker interference detected!
Wikia is a free-to-use site that makes money from advertising. We have a modified experience for viewers using ad blockers

Wikia is not accessible if you've made further modifications. Remove the custom ad blocker rule(s) and the page will load as expected.