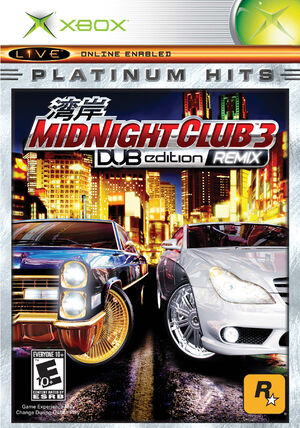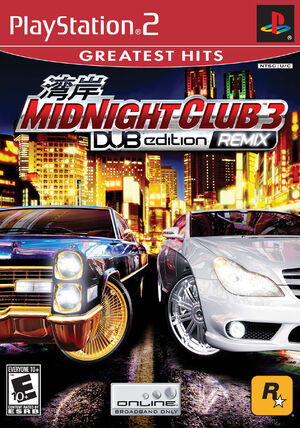 Artist
Song
Other Games
Version Exclusivity
Rock
Ash
Meltdown
Hundred Reasons
Stories With Unhappy Endings
Idlewild
A Modern Way Of Letting Go
Jimmy Eat World
Pain
Tony Hawk's Underground 2
Kasabian
Club Foot
See here
Marilyn Manson
Rock Is Dead
Mash Out Posse
Robbin' Hoods
Original ('Ante Up') in Def Jam: Icon, The Crew
Nine Inch Nails
The Hand That Feeds
Rock Band
Peaches ft. Iggy Pop
Kick It
Pilot To Gunner
Barrio Superstarrio
Queens Of The Stone Age
Little Sister
Project Gotham Racing 3, DiRT 2
The Explosion
No Revolution
Tony Hawk's Underground, NFL Street 2
Unwritten Law
F.I.G.H.T.
Burnout Revenge
Bloc Party
Banquet (Phones Disco Edit)
original in SSX On Tour
Remix
Morningwood
Jetsetter
Remix
Nine Black Alps
Not Everyone
Remix
Stereophonics
Brother
Remix
Stereophonics
Doorman
F1 Grand Prix
Remix
Hip-Hop
Apathy
Drive It Like I Stole It
Baby A.K.A. Birdman ft. Lil' Wayne
Shyne On
Big Tymers
Get Your Roll On
Big Tymers ft. Lac, Stone and Mikkey
Put That S**T Up
Bump J (ft. Rick James)
On The Run
Fabolous
Gangsta
Fabolous ft. Thara
Ghetto
Fabolous
Keepin' It Gangsta
Fabolous
Real Talk
Fat Joe
Safe 2 Say (The Incredible)
Lil' Wayne
Go D.J.
DJ Hero 2
Mannie Fresh
Real Big
Petey Pablo
Freek-A-Leek
Pitbull ft. Piccallo
Dammit Man
Roy Jones, Jr. ft. Magic & Choppa
Body Head Anthem
Slim Thug
Like A Boss
T.I.
ASAP
T.I.
U Don't Know Me
Trick Daddy ft. Khia & Thampa Tony
Jump On It
Twista ft. T.I. & Liffy Stokes
Like A 24
Twista
Overnight Celebrity
Saints Row
Twista ft. Anthony Hamilton
Sunshine
Lovely Day in Tony Hawk's Ride
Ying Yang Twins
Hanh!
The Game ft. 50 Cent
How We Do
Crisis
You Like My Style
Remix
The Game
Higher
Remix
Paul Wall
Sittin' Sidewayz
SSX on Tour, Def Jam: Icon
Remix
Slim Thug
Playa You Don't Know
Remix
Stat Quo
Like Dat
NBA Live 06
Remix
Dance Hall
Beenie Man
King of the Dancehall
Dance Central
Beenie Man ft. Ms. Thing
Dude
Get On Da Mic
Beenie Man
Miss L.A.P.
Beenie Man ft. So Solid Crew
Yagga Yo
Lady Saw
Strip Tease
M.I.A.
Fire Fire
Mr. Vegas ft. Wayne Anthony
Pull Up
Sean Paul
Like Glue
Two Culture Clash ft. General Degree
... And Dance
Two Culture Clash ft. Ward 21
This Anuh Rampin'
Uptight Sound System
Righteous Dub
Damian Marley
Hey Girl
Remix
Damian Marley
Welcome To Jamrock
FIFA 06, DJ Hero 2, remix ('Stand Up Jamrock') in GTA IV
Remix
Lady Sovereign
Random
Remix
Smith & Mighty
B Line Fi Blow
Remix
Sean Paul
Breakout
Remix
Drum'n'Bass
Aquasky
Spectre
Grand Theft Auto III
Calyx
Are You Ready
Calyx
Chasing Shadows
Calyx
Collision Course
Calyx
Get Myself To You
Calyx
Illusions
Calyx
Just You
Calyx
The Leader
Follow the Leader in Marc Eckō's Getting Up: Contents Under Pressure
Calyx & ill.skillz
Thru Your Eyes
Culture Shock
Vega
Deep Blue
The Helicopter Tune
Grand Theft Auto: Liberty City Stories
Dom & Keaton
Archaeon
Dom & Roland
Imagination VIP
Midnight Club
Dom & Roland
Soundwall VIP
Midnight Club
E-ssassin
Interface
Future Prophecies
Final Fantasy
Noisia
Believe
Noisia
Cold Veins
Omni Trio
Renegade Snares
Grand Theft Auto: Liberty City Stories
Calyx
The Things You Mean To Me
PSP Exclusive
Dom & Roland
Paradrenasite (Combined By Hive)
PSP Exclusive
Dom & Roland
Dance All Night
PSP Exclusive
Omni Trio
Renegade Snares (Foul Play Remix)
Original Mix on Grand Theft Auto: Liberty City Stories
PSP Exclusive
Blame
Artificial Intelligence
Remix
Logistics
Release The Pressure
Remix
Logistics
Static
Remix
Nemesis
Alter Ego
Remix
Sunchase
As We Look (Instrumental)
Remix
Techno
Aztec Mystic
Aguila
B. Calloway
Direct Maniac
Dark Energy
Sunshine
Fix
Bite Before You Bark
Fix
Flash
Knights of the Jaguar
Jaguar
Los Hermanos
Quetzal
The Maritan
Lost Transmission
The Maritan
Sex In Zero Gravity
The Maritan
Share Your Feelings
The Maritan
Stardancer
Mr De'
The Zoo
Mr De'
Throw
Ron Cook/Tek Brothers (Incorrectly credited to M.I.A.)
Denang
Suburban Knight
Night Strike
Suburban Knight
Nocturbulous
Suburban Knight
The Warning
Tek Brothers
Funktion
Underground Resistance
Amazon
Underground Resistance
Hi-Tech Jazz
Underground Resistance
Jupiter Jazz
The Martians
Tobacco Ties
PSP Exclusive
Drumattic Twins
Twister
Wipeout Pure
Remix
Lee Combs
Shiver (Plump DJ's Mix)
Remix
Plump DJs
Soul Vibrates
Remix
Plump DJs
The Rub Off
Remix
Soul Of Man
Foxy Moron
Remix
Other
Disco 2001
Cornbread (garage)
The Ratt Pakk
Deep South (garage)
The Ratt Pakk
Flight Deck (garage)
The Ratt Pakk
Spaced Out (garage)
Jean Grae
Going Crazy (garage/end of a race)
Super Natural ft. Wildchild of the Lootpack
Victory (garage/end of a race)
Buddy Klein
Let's Go (garage/end of a race)
Ad blocker interference detected!
Wikia is a free-to-use site that makes money from advertising. We have a modified experience for viewers using ad blockers

Wikia is not accessible if you've made further modifications. Remove the custom ad blocker rule(s) and the page will load as expected.