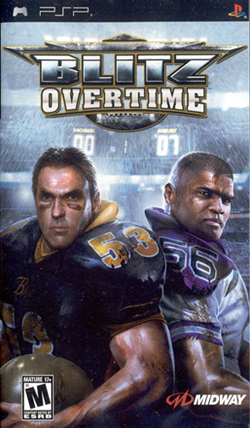 Artist
Song
Other games
League
Overtime
Visionaries
Pangaea
Yes
Yes
Visionaries
If You Can't Say Love
Yes
Yes
Son Doobie
U Wit That
Yes
Yes
Son Doobie
Full Moon
Yes
Yes
Obscure Disorder
2004
Yes
Yes
Felonious Funk, D. Styles
Felonious Funk (A Trak Remix)
Yes
Yes
Rascalz
Hit Em Up
Yes
Yes
Rascalz
Jungle
Yes
Yes
Raskalz
Cross the Line
Yes
No
Skindred
Bruises
Yes
Yes
Skindred
Pressure
Project Gotham Racing 3
Yes
Yes
Phifty-50
Let'Em Hate
Yes
Yes
Swollen Members
Too Hot
Yes
Yes
Heavy Mojo
Radio
Yes
Yes
Heavy Mojo
So You Say
Yes
Yes
Heavy Mojo
Streetz
No
Yes
Heavy Mojo
Hood Rat
No
Yes
The Album
Pistola
No
Yes
Danko Jones
The Finger
No
Yes
E. Town Concrete
More Than Incredible
No
Yes
Korn
Coming Undone
The Bigs 2, vs Dem Franchize Boyz — Coming Undone Wit It in NFL Street 3
No
Yes
Daniel Tobiaski, Stefan Benfeler, Ben Lieber, Secret Agent Bill
Outside
No
Yes
P.O.D.
Lights Out
Forza Motorsport 2, College Hoops 2K7
No
Yes
(hed)p.e.
Represent
Yes
No
W. Braunstein, J. Fuentes, M. Manzanilla, C. Martin, Non Phixion
Rock Stars
Shadow
Play Dirty
Yes
No
Suburb Thuggin
El Pus
Yes
No
Fat Lip
Today's Your Day (Watchagonedu?)
Yes
No
The Beatnuts
No Escapin' This
Yes
No
Buck
The Streets
Yes
No
Killing Zone
All My Life
Yes
No
B Real
Play At Your Own Risk
Yes
No
Ad blocker interference detected!
Wikia is a free-to-use site that makes money from advertising. We have a modified experience for viewers using ad blockers

Wikia is not accessible if you've made further modifications. Remove the custom ad blocker rule(s) and the page will load as expected.